Plastic Profile Extrusion
Plastic Profile Extrusion
Meenchi

China

About 40 working days after deposit

10 sets per month
The profile plasticizing extrusion is a kind of extruder for profile without special structure, as long as the general extruder is selected correctly. When selecting extruder, only single screw extruder can be selected; when the profile section is large, the profile section size is different. When the weight of profile per meter is not more than 250g, PVC powder resin can be used in single screw extruder or twin screw extruder in advance. When single screw extruder is used for molding, granulation is carried out. The twin-screw extruder can directly use PVC resin with simple mixing, and the conical twin-screw extruder with different rotation is generally used for molding.

Profile can be divided into two types according to material, one is all plastic profile, the other is composite profile made of plastic material and non plastic material. According to the soft and hard degree of different profiles, they can be divided into soft profile and hard profile. According to the classification of plastic varieties, it can be divided into PVC profile and PE profile, most of which are PVC profile. The extrusion process of plastic profile is very similar to that of pipe. Take PVC as an example to introduce the difference between profile and pipe.
PLASTIC PROFILE EXTRUSION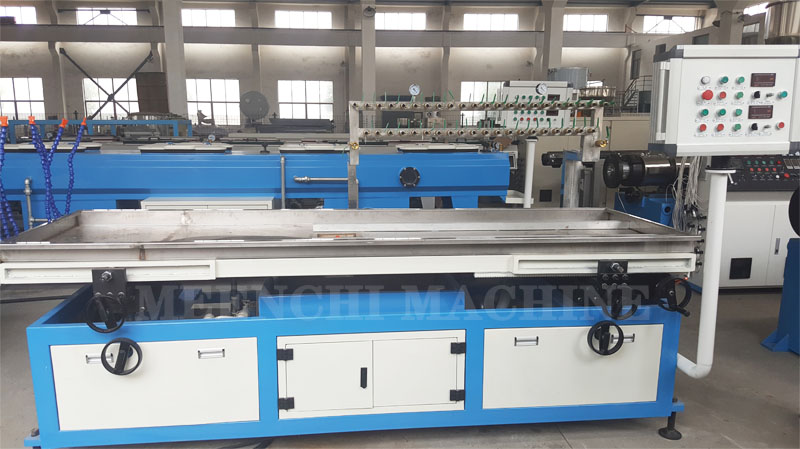 PRODUCT DESCRIPTION:
Sj-45, SJ-65 or sj-90 single screw for plastic profile extruder, length diameter ratio is 20-25, PCV and powder are parallel opposite twin screw extruder or conical twin screw extruder.
There are many kinds of plastic profiles, including soft and hard, non foaming and low foaming, complete plastic forming, plastic and non plastic, plastic and metal, different varieties of plastic, different colors of plastic. According to the section shape, it can be divided into hollow profile, open profile, solid profile, composite profile, etc. Plastic profiles are widely used to replace wood and steel, such as door frame, door panel, window frame, wall corner, floor strip, handrail, lampshade, screen, wiring slot plate, cabinet, fence, sealing strip, sunshine board, integrated circuit board, furniture accessories, mechanical parts, etc.
Plastic profile production line mainly includes extruder, head, vacuum shaping cooling device, cooling water tank, traction machine, cutting machine, opposite platform, etc. Cooling water tank and vacuum device can be configured as required, stacking platform can also be determined as required, and some ribbon and strip soft products can also be equipped with coiler.

PRODUCT ADVANTAGES:
1. Use frequency conversion for speed regulation
2. Has super-taper twin-screw extruder with temperature controlling instrument in the screw core
3. Saves power by 30% - 40%
4. The rigid gear surface of the reducer can be operated continuously for a long time without trouble
5. Operation and mold changing are smooth and steady
6. Long usage life
7. Can produce steel plastic profiles by changing the wood imitation foaming profile mold, combines with one set of steel liner conveying devices

PRODUCT DETAILS:

Haul off and Cutter
Photo of final production