Factory Supply OEM High-quality Plastic Dewatering Machine Quotes
Plastic Dewatering Machine
Meenchi

China

About 40 working days after deposit

15 sets per month
Plastic dehydrator is a fully automatic dehydrator developed by Zhangjiagang Mingchi Machinery Co., Ltd. for dehydration and drying of recycled plastic particles and sheets.
This kind of dehydrator has the advantages of high output, good dehydrating effect, time saving and labor saving. It is a necessary equipment for cleaning and recycling recycled recycled plastics.
PLASTIC DEWATERING MACHINE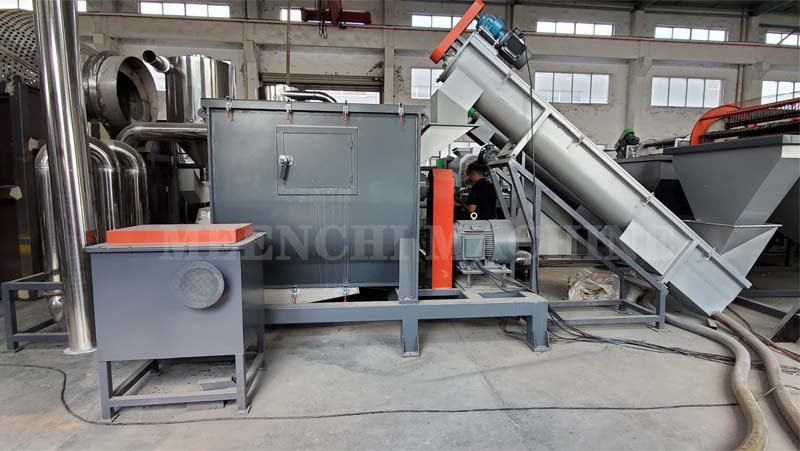 PRODUCT DESCRIPTION:
Plastic dehydrator is suitable for cleaning and dehydrating plastic sheet and granular material. High degree of dehydration, high rate of dehydration, low power consumption, fast efficiency, high degree of automation, greatly reducing labor intensity.
Dehydrate clean, can wash and remove the small sundries such as the fine sand in the plastic. Advanced manufacturing technology, convenient cleaning and low noise. Safe to use and all made of stainless steel, durable.
PRODUCT ADVANTAGES:
1. The independent feeding system endows the vertical plastic sheet dehydration dryer with stronger feeding capacity, improves the feeding efficiency, and directly improves the output of the plastic sheet dehydration dryer.
2. The dehydration system can make better use of gravity, make moisture and plastic sheet separate quickly, and greatly improve the dehydration effect of plastic sheet dehydrator.
3. The stainless steel structure of the whole machine and the cleaning process of the plastic sheet cannot be separated from the acid-base solution. After a large number of acid-base solutions enter the plastic sheet dehydrator, the corrosion to the machine cannot be ignored. In order to solve this problem, Mingchi plastic dehydration dryer selects high-quality stainless steel plate as the material, and the whole machine uses high-quality national standard stainless steel, so the service life of the machine is improved.