Plastic Film Washing Machine
Plastic Film Washing Machine
Meenchi

China

About 40 working days after deposit

5 sets per month
Plastic film recycling line is mainly used for cleaning, recycling and utilization of plastic film.

Plastic film is mainly divided into plastic mulch film and plastic agricultural film, plastic mulch film is mainly has PE film, plastic agricultural film PE, PE / EVA, PVC film.

Film washing line can be carried out by manual sorting first, then crushing, cleaning, recycling and drying.
PLASTIC FILM RECYCLING PLANT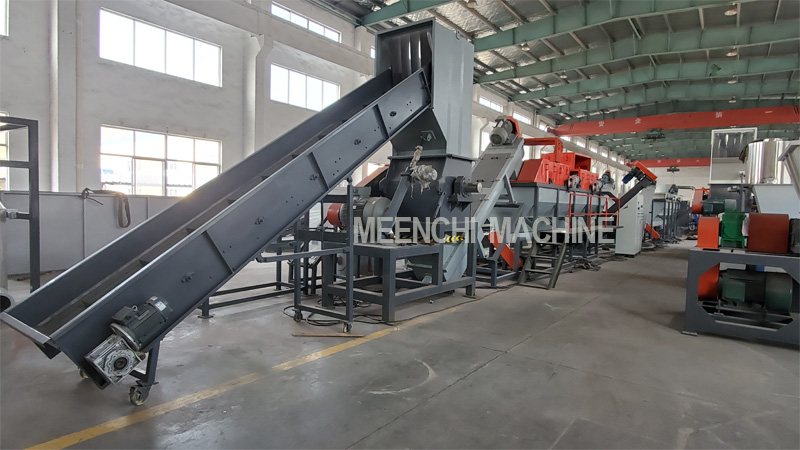 PRODUCT APPLICATION
1. Our pp pe film washing line can make the waste and dirty film materials become clean flake particles after crushing, washing, drying and collecting. We also provide plastic granulation line (plastic granulator) to make clean flake particles (particles).
2. Recycled particles (particles) from our film washing machine can be processed into plastic barrels, plastic pipes, plastic frames, agricultural tools, mechanical parts, etc. by extrusion molding machine.
3. They are widely used in agriculture, construction, industry and our daily life. In this way, we have achieved the purpose of recycling waste plastics and protecting the environment.
FEATURES
1. Plastic film recycling machine is suitable for all kinds of films and PP woven bags with silt content up to 80%.
2. Film recycling machine adopt the circulating water system to ensure the cleaning effect and control the water flow and evaporation water volume at the same time.
3. Pp recycling machine can easily remove sand oil dirties and other impurities, finally you will get clean ideal PE PP flakes.

4. The pre crushing and pre washing system of pe film recycling machine can effectively remove most of the sediment and other impurities, protect the follow - up equipment, and greatly improve the service life of the fine crushing and cleaning system.
5. PE PP plastic films/bags recycling machine is mainly used to recycling waste plastic PE/LDPE/LLDPE/PP films/bags, shopping bag,PP woven bag, PP cement bags,PP Jumbo bag and so on.
6. The high-speed centrifugal cleaning system of pe film washing line applies the corresponding blade hitting force to different materials at a suitable rotation speed to achieve the cleaning effect.
7. All your requirements of pp plastic recycling machine and pe recycling machine can be customized.
WORKING FLOW
Belt conveyor → Crush with water → Screw loader 1 → High speed friction washer → Floating washer tank → Screw loader 2 → Centrifugal dryer → Pipeline dryer → Packaging system → Electric cabinet

TECHNICAL PARAMETER
TECHNICAL PARAMETERS OF PLASTIC FILM RECYCLING MACHINE

Model of pe pp film washing line

Capacity(kg/h)

Installed

Power(KW)

Chemical Washing

Water Supply(

m³/hr)

Staff


Area Required

MC-300
300
120
Optional
4-5
1-2

23m*5m*3.5m

MC-500
500
185
Optional
5-6

1-2

25m*6m*5.5m

MC-1000
1000
270

Optional
7-8

4-5

40m*6m*5.5m

Product Contrast Chart