Industrial Shredder Machine
Industrial Shredder Machine
Meenchi

China

About 40 working days after deposit

10 sets per month
Heavy duty industrial shredder is used for shredding industrial waste, television, washing machine, tire, DVD, car door, mixed scrap steel, industrial waste paper, computer, hard disk, waste clothes, waste shoes, textiles, urban domestic waste, oil tank, paint tank, mattress, etc.

The heavy shredder has the characteristics of low speed, large torque and low noise. It adopts PLC control system and can be automatically controlled. It has the functions of start, stop, reverse and overload automatic reverse.

According to the needs of customers, we study and produce 4 shaft shredder、abs plastic grinder、aluminium shredder、car shredding machine、copper shredder、iron shredder machine、municipal solid waste shredder、metal shredder machine,if you need it ,please contact us,thank you.
INDUSTRIAL SHREDDER MACHINE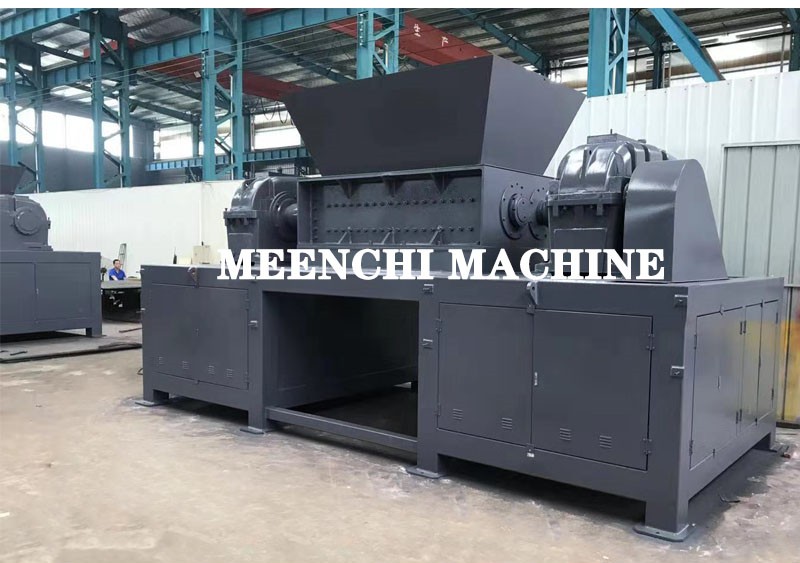 PRODUCT DESCRIPTION:
Industrial waste shredder product introduction industrial waste shredder, also known as solid waste shredder, can reduce the size of materials, the thickness of cutting tools and the number of claws according to different materials by cutting, tearing and extrusion. The industrial crusher machine can be equipped with a pressing device to increase the output when crushing hollow materials, and a rotary screen can be added to control the discharge size.
The industrial heavy duty shredder operates at low speed, and the noise and dust can reach high environmental protection standards. After years of research and practice, the shredder produced by our company has been improved and developed according to the actual situation in China, and a series of shredder with mature technology has been launched to provide reliable quality equipment for the crushing and volume reduction treatment in the early stage of waste recycling in China.

In fact, we have many industrial shredders, such as:industrial metal shredder、industrial plastic shredder machine、industrial tire shredder、rubber shredder machine、textile shredding machine、waste wood shredder and etc.
PRODUCT ADVANTAGES:
1. The main body of the industrial shredding machines adopts high-quality steel plate welding stress relief treatment / overall machining to ensure the stability of the equipment in long-term heavy load.
2. Industrial waste shredding machine tool material is made of special alloy tool steel forging blank, precision machining, multiple heat treatment and low temperature freezing heat treatment technology. The overall toughness and hardness can be used repeatedly to ensure the cutting performance and service life. Fixed cutter adopts patented hook type installation, optimizes cutter replacement function, and makes cutter maintenance and replacement more efficient.
3. The bearing seat of the industrial waste shredder adopts the patented split and detachable type, which can quickly remove the moving knife, fixed knife, bearing and other parts, and is easy to maintain and replace the cutter. The unique sealing structure effectively blocks the contact between the broken object and the grease, and the treatment of liquid materials can also protect the bearings and gears.
Machine Layout:
1. Stairs 2. Double shaft shredder 3. Conveyor belt with metal separator 4. Crusher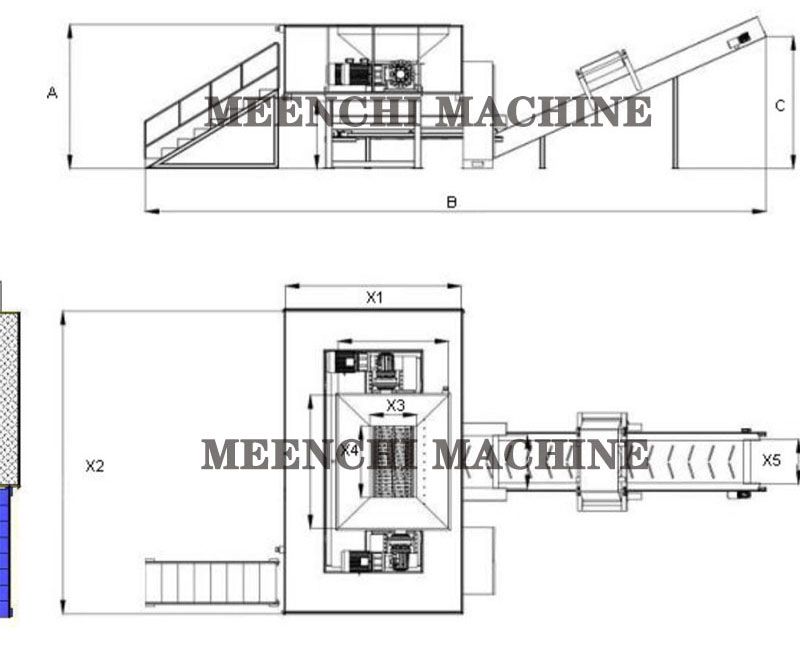 PRODUCT PARAMETERS:
TECHNICAL OF INDUSTRIAL PLASTIC GRINDER
Model
3280
32100
32120
40100
40130
Dimension(mm)


2940×1816×2270

3275×1946×2275

3416×1946×2275

3334×1866×2670

3716×2234×2670

Rotary Blade(pcs)
20

25
30
35
40
Thickness of Blades(pcs)
40
40
40
50
50
Motor Power(kw)
15*2
22*2

22*2

37*2
45*2
PRODUCT DETAILS:

Metal Seperate