Chemical Fiber Agglomerator
Chemical Fiber Agglomerator
Meenchi

China

About 40 working days after deposit

15 sets per month
Chemical fiber high-speed agglomerator is a kind of equipment that directly granulates waste thermoplastic film and products with wall thickness less than 2mm.

It can agglomerate the waste products or films of soft PVC, high and low pressure polyethylene, polystyrene, polypropylene and other thermoplastic plastics, and can also granulate the waste products of expanded polystyrene.
CHEMICAL FIBER AGGLOMERATOR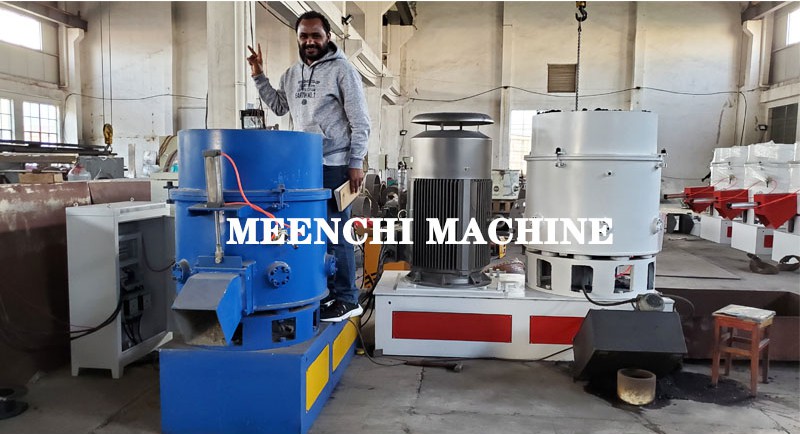 PRODUCT DESCRIPTION:
After the waste material is put into the machine pot, it is quickly cut into pieces by the shearing action of the high-speed rotating blade and the fixed blade. The chopped material or piece flows along the wall of the pot body under the centrifugal force of the rotating blade, and the material is turned up and down by the action of the lower slurry, moving from four circles to the center of the pot body.
As a result of the friction between the materials themselves and the friction with the boiler wall and the blade at high speed, a large amount of friction heat is generated, which makes the temperature of the materials rise rapidly to a semi plasticized state, and they are adhered to each other into small pieces. Before the materials are going to agglomerate, all the pre prepared quantitative water is sprayed into the materials. When the cold water meets the hot materials, it is gasified quickly, and the heat on the surface of the materials is taken away, which makes the material list The surface is cooled rapidly to prevent caking, and then it is cut into particles (irregular particles) by the crushing effect between the rotating blade and the fixed blade. In the process of cutting, appropriate pigments can also be added as needed for coloring.
The granulated material produced by this machine can be directly used by extruder and injection machine. For products with strict requirements, it can also be used after extrusion granulator, plasticization and granulation.
PRODUCT PARAMETERS:
| | | | | | | |
| --- | --- | --- | --- | --- | --- | --- |
| Model | GHC100 | GHC200 | GHC300 | GHC500 | GHC800 | GHC1000 |
| Tank volume (Liter) | 100 | 200 | 300 | 500 | 800 | 1000 |
| Working volume (Liter) | 75 | 150 | 200 | 375 | 600 | 750 |
| Rotating blades speed (r/min) | 800 | 800 | 900 | 750 | 750 | 700 |
| Rotating blades quantity (pcs) | 2 | 2 | 2 | 4 | 4 | 4 |
| Stationary blades quantity(pcs) | 6 | 6 | 8 | 8 | 8 | 8 |
| Discharging model | Pneumatic | Pneumatic | Pneumatic | Pneumatic | Pneumatic | Pneumatic |
| Motor power (Kw) | 37 | 55 | 75 | 90 | 110 | 132 |
| Machine dimension L×W×H (mm) | 1900×650×1310 | 1900×1160×1800 | 2100×1495×1945 | 2100×1510×2145 | 2170×1510×2140 | 2680×1815×2400 |
| Capacity( Kg/h) | 100-150 | 150-250 | 200~350 | 350~500 | 400~650 | 600~800 |
| Machine weight ( Kg) | 1200 | 1800 | 2000 | 2500 | 2800 | 3500 |

PRODUCT DETAILS:

Automatic feeding device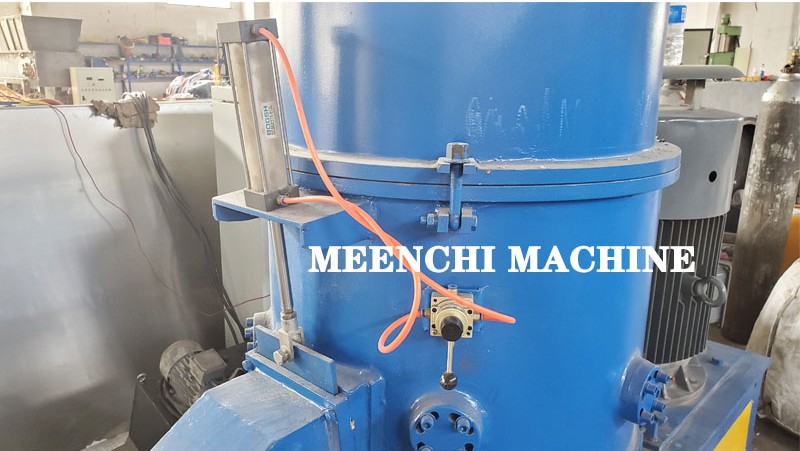 Photo of the final production