Plastic Pipe Extrusion Machine
Plastic Pipe Extrusion Machine
Meenchi

China

About 40 working days after deposit

5 sets per month
Our factory is engaged in the research, development and production of complete plastic pipe extrusion and related equipment. Our factory insists on the quality oriented, our quality inspection team supervises every production link, and ensures that each set of equipment is tested in accordance with the voltage, frequency and safety standards of the destination country or region before leaving the factory.

In recent years, Meenchi machinery has continuously introduced advanced technology and management methods from all over the world on the basis of its own technology. Its products are: plastic pipe production line: PE corrugated pipe extrusion line, pvc pipe extruder machine out of four, pvc pipe extrusion line out of two,cpvc pipe making machine ,hdpe pipe extruder machine, pe pipe extrusion machine, ppr pipe extrusion machine, PE-RT pipe production line, pvc conduit pipe machine, PC pipe line, high-speed mixing unit, planetary cutting machine , three claw tractor and other auxiliary equipment.
PLASTIC PIPE EXTRUSION MACHINE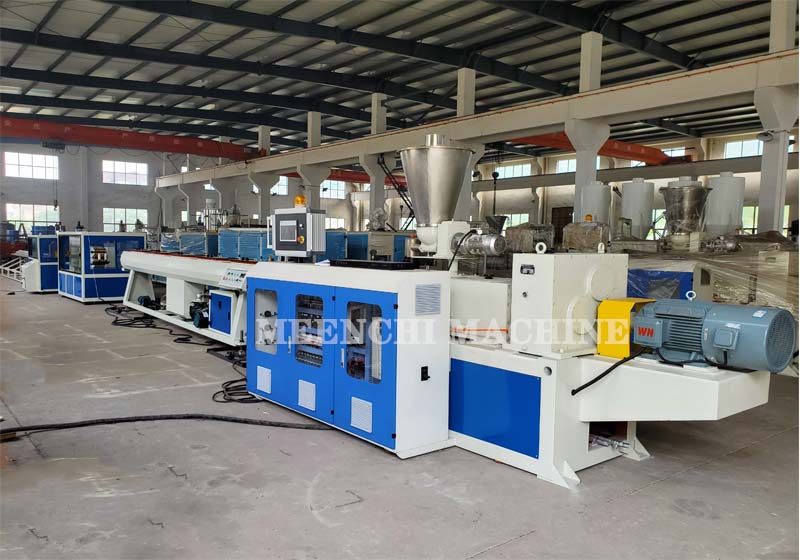 PRODUCT DESCRIPTION:
As an important part of chemical building materials, plastic pipes are widely accepted by users for their superior performance, sanitation, environmental protection and low consumption, mainly including UPVC drainage pipe, UPVC water supply pipe, aluminum plastic composite pipe and polyethylene (PE) water supply pipe.
The pipe production line is composed of control system, extruder, head, shaped cooling system, tractor, planetary cutting device and tripper. Each pipe production line has two extruders, one of which is mainly used for strong conveying Bush and high-efficiency screw, and the other is used for extrusion marking line. When the plastic pipe production line breaks down, it will directly cause the surface of the plastic pipe to be rough, there will be shaking ring inside, no vacuum and other phenomena, so it is necessary to eliminate the failure of the plastic pipe production line in time to improve the product quality.
Our factory can make:agriculture pipe machine、conduit pipe machine、corrugated pipe making machine、electric pipe making machine、hdpe pipe making machine、ldpe pipe making machine、pe pipe extrusion line、polyethylene pipe extrusion、ppr pipe making machine、pvc electrical conduit pipe making machine 、pvc pipe machine and etc pipe making machine.
PRODUCTION PROCESS:
Production process raw material + auxiliary preparation → mixing → conveying and feeding → forced feeding → conical twin-screw extruder → extrusion die → sizing sleeve → spray vacuum setting box → soaking cooling water tank → ink printer → crawler tractor → knife lifting cutter → pipe stacking frame → finished product inspection and packaging
PRODUCT PARAMETERS:
TECHNICAL OF PVC PIPE PRODUCTION LINE
Diameter range(mm)
Extruder Model
Main motor power(KW)

Max. Capacity(KG/H)

Max. Haul off speed(m/min.)

16-40

Dual

SJSZ51/105

18.5

AC

150

10

20-63 Dual

SJSZ65/132

37 AC

250

15

20-63

SJSZ51/105

18.5 AC

120

15

50-160

SJSZ65/132

37 AC

250

8

75-160 Dual

SJSZ80/188

110 AC

450

6

110-315

SJSZ80/156

55 AC

450

3

315-630

SJSZ92/188

110 AC

800

1.2
PRODUCT DETAILS:
Cutter
Sizing sleeve