Water Tank Blow Moulding Machine
Water Tank Blow Moulding Machine
Meenchi

China

About 40 working days after deposit

10 sets per month
Zhangjiagang Meenchi machinery Co., Ltd. is a large-scale cracking equipment manufacturer with a history of 22 years in China. The company is located in Zhangjiagang, a beautiful industrial developed city.

The company has passed ISO9001 certification, CE certification and SGS international third-party certification, from overall design, manufacturing, installation and commissioning to production and commissioning, technical training and after-sales service in the whole industrial chain operation of high-tech enterprises.
WATER TANK BLOW MOULDING MACHINE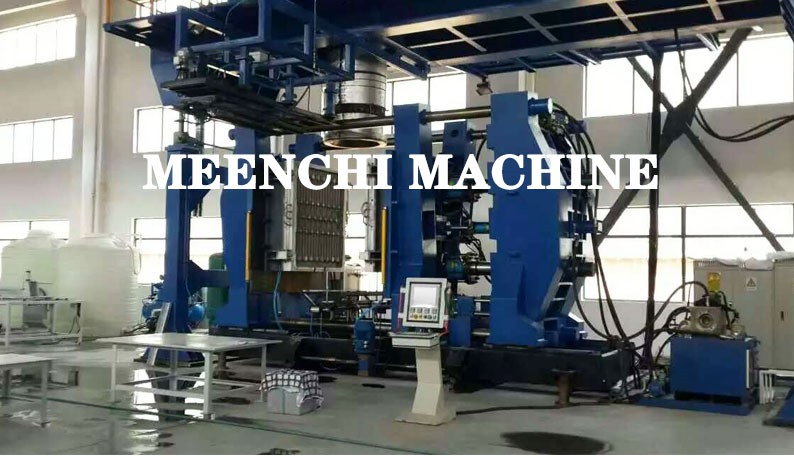 PRODUCT DESCRIPTION:
1000L-5000L Plastic Water Tank Blow Molding Machine/Blowing Moulding Machine is a tubular thermoplastic plastic blank extruded from an extruder and still in a softened state, placed in a molding die, and then compressed air is introduced, and the pressure of the air is used to deform the blank along the cavity, thereby blowing Made into a hollow product with a short neck. 1000L Plastic Water Tank Blow Molding Machine/Blowing Moulding Machine has been widely used to produce a variety of thin shell hollow products, chemical and daily packaging containers, and children's toys. 1000L plastic bottle moulding Machine/plastic bottle making machine is a method of inflating a hot-melt shaped embryo closed in a mold by means of gas pressure to form a hollow product, and is the third most commonly used plastic processing method, and is also developing rapidly. A plastic molding method.
Our plastic bottle blow moulding machine can produce 1, 2, 3, 4, 5 and 6 layers of 50L 60L 80L 120L 160L 200L 300L 500L 1000L 2500L 3000L 500L civil buckets and industrial buckets.
PRODUCT ADVANTAGES:
1. German coextrusion technology, no leakage at the head, even wall thickness.
2. The panel box is equipped with air conditioner to keep cool.
3. The latest mold replacement system is faster and easier than the limit switch.
4. We use Taiwan's DELTA servo motor with the lowest energy consumption.
5. We can independently design and produce 1-6-layer co extrusion head. Multi-layer co extrusion can help customers save the cost of plastic materials, improve the production efficiency of products, and thus improve the market competitiveness of products. Adopting the latest multi-layer coextrusion technology in Germany, the die head has no leakage and the wall thickness is the most uniform.
6. The diagonal arm type fixed clamping device and cross stiffener are used to ensure that the clamping bearing balances each platen, and the movement of the formwork is guided by the linear guide rail and the synchronous mechanism.
7. The warranty of our machine is one year (non - human), but we are responsible for the maintenance for life

PRODUCT PARAMETERS:






POWER


Driving motor power

KW

30
37
45


Host barrel heating power

KW

21
26
30

Oil pump motor power

KW

18.5
22
45

Heating die power

KW

12
17
21







Productivity

Maximum plasticizing

KG/h

100
140
180

Max container products

L

30
60
90

Accumulator Capacity

L
4.5
6.6
10

Steam source pressure

Mpa

0.6

1
1




Screw parameter

main screv diameter

MM

80

90
90

main screw L/D ratio

L/D
25
28
30

Extrusion die diameter

MM

300

350
350




Mold parameters

Clamping force

KN

215
350
350

Steel moulding plate size

MM

600*700
700*1200
750*1300

Platen distance

MM

400-900

950-900
980-1000
PRODUCT DETAILS: