Plastic Film Squeeze Drying Granulator Machine
Plastic Film Squeeze Drying Granulator Machine
Meenchi

China

About 40 working days after deposit

15 sets per month
1. Plastic film squeezer pelletizing machine use Special reducer structure, special screw design and special extrusion principle of the film dryer, which can be continuously produced.
2. After extrusion, the material directly becomes 3-5cm irregular coarse particles.The extruded water flows out from the mesh, and the materials with high strength generate heat by extrusion and friction.
3. After being heated twice by the die head, the materials can be plasticized slightly and then directly shaped after being cut by the blade.
4. The output can reach 1000 kg / h. Support the customer to come to the factory to inspect the goods and test the machine with materials.
PLASTIC FILM SQUEEZE DRYING GRANULATOR MACHINE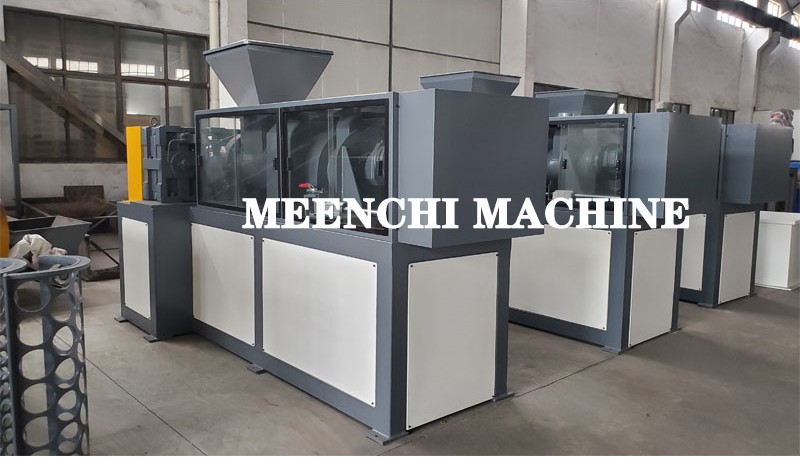 PRODUCT DESCRIPTION:
The recycled materials you feed are squeezed to become flakes or lumps .The moisture they contain will be lowered down to 3-5%. After being squeezed, these lumps or flakes with much lower moisture and higher density can be directly feed into pelletizing extruder.
Its output can amount to 300~1000kg/hr per hour and the degradation of the pellets will be highly decreased. Furthermore, you don't need to increase heating rate. The quality and validity of the pellets and the efficiency of the extruder will be improved with the increased capacity.

PRODUCT FEATURES:
1) Plastic film squeezer machine is our new designed machine, made by the advanced Italian techniques, specially screw pressing design.
2) Plastic film squeezer granulator machine is especially for plastic film, plastic bags, woven bags, jumbo bags, solve the drying problem in the past.
3) Film squeezer machine can instead of the dewatering machine, hot blower in the recycling line and energy saving equipment.
4) Easy to operate.
5) The squeezer dewatering plastic film is suitable for all plastic films.
6) It does not affect the original fat dissolving index of the material.
7) After the film dryer, it can be directly put into the pelletizer for pelletizing without forced feeder.
8) Fool operation, low noise and low maintenance cost
PRODUCT PARAMETERS:

| | | | |
| --- | --- | --- | --- |
| Model | FSP-300 | FSP-500 | FSP-1000 |
| Capacity:kg/h | 300 | 500 | 1000 |
| Screw diameter:mm | Φ250 | Φ280 | Φ315 |
| Screw length:mm | 1220 | 1220 | 1220 |
| Main Motor Power:KW | 55 | 90 | 110 |
| Heating power:KW | 4 | 6 | 6 |
| Cutting Blade:PCS | 4 | 4 | 4 |
| Material size:mm | 12 | 12 | 12 |
| Cutting power:KW | 1.5 | 2.2 | 2.2 |
| Blower power:KW | 3 | 4 | 5.5 |
| Moisture remain | 3~5% | 3~5% | 3~5% |
PRODUCT DETAILS:

Cutting Blade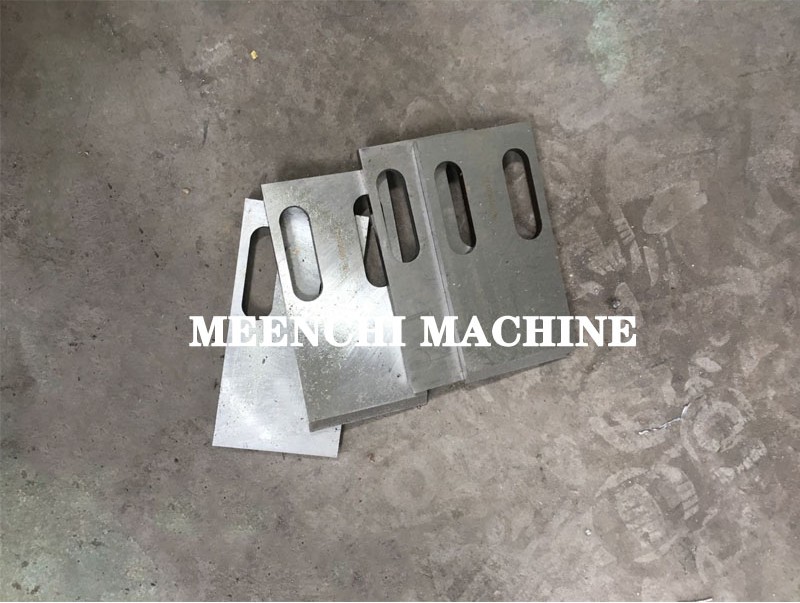 PHOTO OF FINAL PRODUCTION: