Plastic Bottle Shredder
Plastic Bottle Shredder
Meenchi

China

About 40 working days after deposit

10 sets per month
This plastic bottle crusher is used for the shredding of Coke bottles, plastic bottles, pet mineral water bottles, gasoline bottles, milk bottles, large buckets and large garbage cans.

This series of bottle shredder is specially designed for barrel material, bottle material and other sheet material; the size of shredded material is even and small; it can replace.

Pet bottle crushing machine adopts automatic control of micro-computer (PLC), with the functions of start, stop, reverse and overload automatic reverse control. Bottle grinder machine has the characteristics of low speed, large torque and low noise.
PLASTIC BOTTLE SHREDDER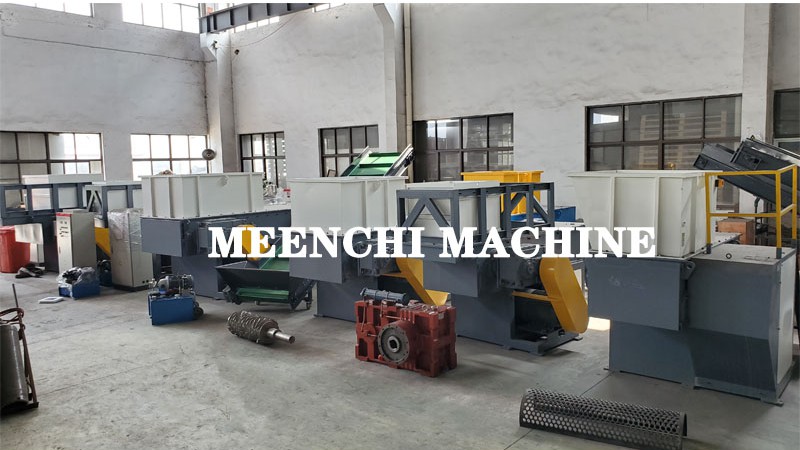 PRODUCT DESCRIPTION:
Domestic plastic bottle shredder is a kind of environmental protection shredder for solid waste volume reduction machinery. It is used to tear HDPE plastic products and materials, which is conducive to plastic recycling and recycling of plastic particles. For example: mineral water bottle, PET bottle, engine oil bottle, gasoline bottle, plastic bucket, etc.
The plastic bottle grinder machine is composed of four parts: shredding mechanism, support, recovery box and puller. The size of the equipment is determined by the size of the material and the handling capacity of the material. The filter screen is designed inside the plastic shredder. When the plastic shredder works normally, the filter screen plays the role of separating materials and liquid, effectively recycling the liquid left on the bottle. For example, when the gasoline bottle is crushed, the residual gasoline can be effectively separated and recovered.
Our factory aslo can produce glass bottle shredder 、milk bottle crusher、pet bottle grinding machine、water bottle shredder、plastic drum shredder and etc plastic bottle shredder machine .

PRODUCT ADVANTAGES:

1. The plastic bottle shredder machine is low dust, low noise and easy to operate.
2. This plastic bottle grinder is suitable to treat the big size of plastic product, such as headpiece material, thick-walled large diameter plastic pipe, film roller, paper, fibre and others.
3. The blade base and blade on the rotary roller can be disassembly. It is easy to clean and maintenance.
4. The rotary blade of pet bottle grinder use V shape installation so that the blade can cut material evenly, it can decrease the noise and decrease energy consumption.
5. Each rotary blade of pet bottle shredder with 4 cutting knife edge, when the rotary blade is wear, it can be rotated to 90 degree, then the blade can continue to use.
6. Each fixed blade of plastic milk bottle crusher with 2 cutting knife dege, when the fixed blade is wear, it can be rotated to 180 degree, then the blade can continue to use.
7. The main axis of plastic bottle grinding machine is drive by gearbox, its running very stably, low noise and strong power.
8. The material push feeding system is hydraulic ways, its running is very stably.
9. PLC program control system, automatically rotating, shut down, safe and reliable running of the machine. The blade can rotate in opposite direction.
PRODUCT PARAMETERS:
THE TECHNICAL OF PLASTIC CRUSHER MACHINE

Model

dimension(mm)

Size of the crushing chamber(mm)

Quantity of rotating blade(pcs)

Quantity of stationary blade(pcs)

Power(kw)

Weight(kg)

600

1600*1200*1860

400*600

18
2
22
1250
800

1750*1400*1900

400*800

24
4
37
1500
1000

2100*1650*2300

600*1000

30
4
45
1800
PRODUCT DETAILS: