Plastic Bottle Blow Moulding Machine
Plastic Bottle Blow Moulding Machine
Meenchi

China

About 40 working days after deposit

10 sets per month
Full automatic plastic blow moulding machine is a one-step, one-time molding, hydraulic, full-automatic extrusion blow molding machine, automatic incision, which can blow any shape of plastic hollow container with capacity from 5ml to 5000ML with PE, PP, as and other thermoplastic materials.

This plastic blowing machine is fully automatic production, high energy saving, low noise, fast speed, high efficiency, safe and reliable. It is widely used in the plastic packaging industry such as toys, food, beverage, medicine, chemical industry, pesticide, washing supplies, etc. it is used for blowing oil bottles, pesticide bottles, cosmetics bottles, large caliber bottles, hot filling bottles, etc.

Thisplastic moulding machine has the advantages of less investment, quick effect and convenient operation and maintenance. Safe transfer, debugging, training, perfect quality assurance, full service, let you purchase and use two assured, is your ideal choice. Ht-70a machine has single die double station, double die double station, four die double station.
PLASTIC BOTTLE BLOW MOULDING MACHINE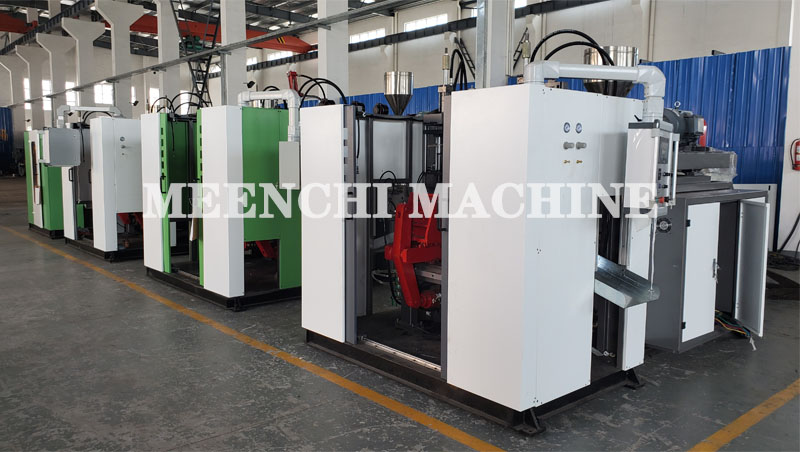 PRODUCT DESCRIPTION:
Zhangjiagang Meenchi Machinery Co., Ltd. is mainly engaged in automatic extrusion blow molding machine, special hdpe blow molding machine for oil pot, multi layer blow moulding machine, pe blow molding machine, hollow blow molding machine, multi-layer blow molding machine, single station blow molding machine, washing liquid blow molding machine and other equipment. Based on the professional technical engineering and automation operation, Mingchi has a place in the field of hollow molding machinery in the plastic packaging industry to cooperate with many overseas customers in the design, structure assembly, marketing and other consistent operating systems.

PRODUCT ADVANTAGES:
1) Electrical control system: The machine works under the PLC control(made by the Mitsubishi Co. of Japan) via a man-and-machine interface(displayed in Chinese version or in English version).The machine is equipped with a modularized temperature controller and operated through a touch-type coloure screen.All the production data can be set up,modified,searched and monitored and the machine trouble diagnosis can be completed both on the touch-type screen.The electric elements work on the non-contact working principle,thus being durable in service life.

2) Hydraulic system:The machine works under the proportional pressure control. The machine is equipped with hydraulic valves and hydraulic pumps imported from world-famous companies,thus assuring consistent and reliable working performance.

3) Plasticizing system:The high performance screw used on the machine assures thorough and homogeneous plasticization and mixing of plastics.

4) Speed regulation system:Frequency-converter-controlled speed regulator + speed change gearbox with hardened alloy steel gears.Speed regulation can be completed smoothly with less noise generated.Therefore the machine is durable in service life.

5) Mould opening,closing & moving system:A big 3-point central beam mechanism for opening & closing the mould halves and locking the mould assures balanced distribution of locking force and is free of any deformation after long-time operation.The mould is horizontally moved on linear spherical ball guideways at high traveling accuracy and rapid speed and with less resistance.

6) Air-bolowing needle bracket:The air-blowing needle bracket is of solid L-square design.The sturdy bracket assures smoothness of the product cut.

PRODUCT PARAMETERS:







PRODUCT

Theoretical outpu

Pcs/hr

1000
1200
1400
Output

L

10
15
15
Clamping force
KN
90
120
120

Max. diameter

mm

160
200
230







MOULD

Number of cavities

zone
3
3
4

Mould plate dimension(LxH)

mm

400*470
5200*5400

5200*5400

Water Consumption
L/MIN
50
60

60

Mould opening stroke

mm

500
620
620




ELECTRICAL

Power

/

220-380v/50-60hz

220-380v/50-60hz

220-380v/50-60hz

Total power

KW

39.7
67.7
82.1

Heating power

KW

7.2
17.6
21










MACHINE

Main body dimension(LxWxH)

M

3.3*2.1*2.6
4*2.2*2.7

4.6*3.1*2.8

Max mould size

W*H

400*470

5200*5400

5200*5400

power

heater
KW
3
9.1

9.1

Machine weight

TON
5
7.8
11
PRODUCT DETAILS: