Plastic Blow Moulding Machine
Plastic Blow Moulding Machine
Meenchi

China

About 40 working days after deposit

10 sets per month
Zhangjiagang Meenchi Machinery Co., Ltd. is a modern manufacturer specializing in the production of full-automatic blow molding machines. The company has a number of excellent technical personnel, with more than ten years of practical experience in the blow molding machine industry. The company's existing products are suitable for the production of 0.005-3000 liter plastic bottles, pots, barrels, bags, plastic pallets and other hollow products.

The products have been sold all over the country and exported to more than 30 countries and regions, such as Germany, Italy, Britain, Ukraine, Turkey, Colombia, Australia, Russia, Egypt, Thailand, Nigeria, etc., which have been well received by users. The company will be committed to the continuous development and innovation of hollow blow molding machine. For the majority of users to provide better machines and more professional services.
PLASTIC BLOW MOULDING MACHINE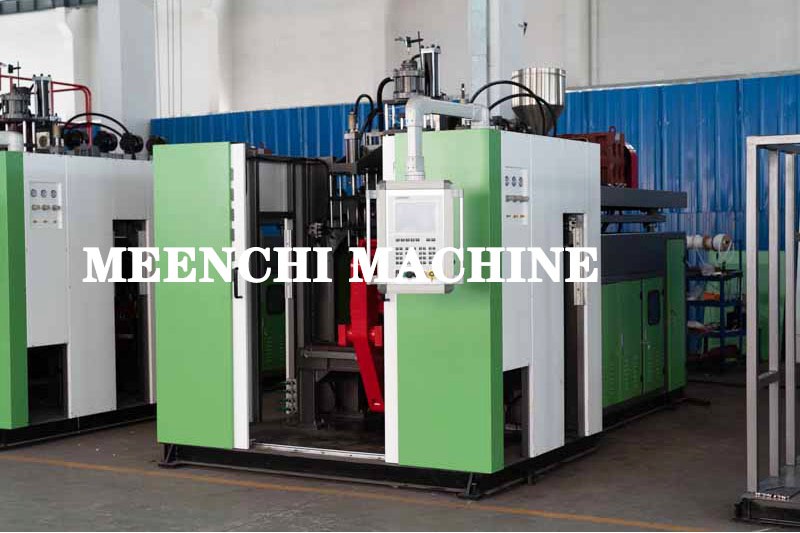 PRODUCT DESCRIPTION:
The automatic bottle blowing machine adopts PLC human-machine interface and touch operation. Fault alarm self diagnosis, clear at a glance.
The center feeding die head can completely eliminate the product convergence line, and the refueling and color changing are fast.
The moving die adopts double linear guide rail and the central locking die. The stress is even, and the incision of the plastic bottle is smooth.
The hydraulic system adopts the proportional hydraulic control, the full-automatic bottle blowing machine is equipped with imported hydraulic components, the action is accurate, stable and energy-saving.
High speed, high efficiency and low energy consumption plasticizing system ensures even and excellent mixing and product purity.
This series of automatic bottle blowing machine mainly blows PE, PP and other plastic bottles, which is different from PET blow molding machine and belongs to a member of blow molding machine family.
The plastics used in the blow molding machine are polyethylene, polyvinyl chloride, polypropylene, polystyrene, linear polyester, polycarbonate, polyamide, cellulose acetate and polyacetal resin. The consumption of HDPE is the first. It is widely used in food, chemical industry and liquid packaging. High molecular weight polyethylene is suitable for manufacturing large fuel tanks and barrels. PVC is widely used in the packaging of cosmetics and detergents because of its good transparency and air tightness.
Our hollow blow molding machine can be used for buckets, models, all kinds of bags, fishing incubators, traffic barrier anti-collision buckets, road cones, milk bottles, cosmetics bottles and other hollow plastic things. If you need, please contact us.
PRODUCT ADVANTAGES:
1) LS-PP suitable for 0.1-2L PP bottles
2) If adopt 2blower,the output can upto 1500bph
3) Infrared lamp heating, the lamp direction can be adjusted according to different preform
4) Advanced PLC control system, with counting function,control time accurately.
5) Easy operate and installation,just need 1 worker .

PRODUCT PARAMETERS:
| | | | | |
| --- | --- | --- | --- | --- |
| ITEM | UNIT | KSC60-5LI | KSC70-5LI | KSC80-5LI |
| Number of heating zone | zone | 3 | 4 | 4 |
| Theoretical Output | pcs/hr | 1100 | 1400 | 2000 |
| Max.container volume | L | 1.5 | 10 | 15 |
| Screw diameter | mm | 60 | 70 | 80 |
| Screw | L/D | 25 | 25 | 25 |
| Clamping force | KN | 68 | 80 | 90 |
| Mold moving stroke | mm | 370 | 420 | 420 |
| Screw motor power | KW | 15 | 22 | 30 |
| Platen size | W*H | 360 | 400 | 470 |
| Max.heating power | kw | 7.2 | 15.4 | 22 |
| Power of die heating | kw | 3 | 5 | 5.7 |
| Actual power consumption | kw | 10-15kw | 20.5 | 29 |
| Working Pressure | Mpa | 0.3 | 0.6 | 0.8 |
| Total power | KW | 34.7 | 39.7 | 59.4 |
| Air pressure | Mpa | 0.5 | 0.7 | 0.7 |
| Water Consumption | L/min | 50 | 60 | 70 |
| Machine Dimension | L*W*H | 3.2*1.8*2.5 | 3.3*2.1*2.6 | 3.4*2.3*2.6 |
| Plasticizing capacity | KG/HR | 70 | 80 | 100 |
| Machine Weight | TON | 4 | 5 | 5.8 |
PRODUCT DETAILS: