Plastic Bag Shredder Machine
Plastic Bag Shredder Machine
Meenchi

China

About 40 working days after deposit

10 sets per month
Plastic shredder machine is applicable to the multi-purpose woven bag shredder such as new-type film, woven bag, fishing net, tire, etc.; it can be used for the recycling and utilization of waste agricultural film, packaging film, greenhouse film, ton bag, space bag, food bag, cement bag, waste fishing net and other raw materials.

Film plastic grinding equipment , also known as plastic film shredder, plastic bag shredder, packaging bag shredder, woven bag shredder, is a new series of film shredder launched by our company after years of research and practice. The cutting tools of the equipment are suitable for tearing, breaking and recycling soft and hard materials, which can meet the requirements of high efficiency, energy saving, firmness and durability of users
PLASTIC BAG SHREDDER MACHINE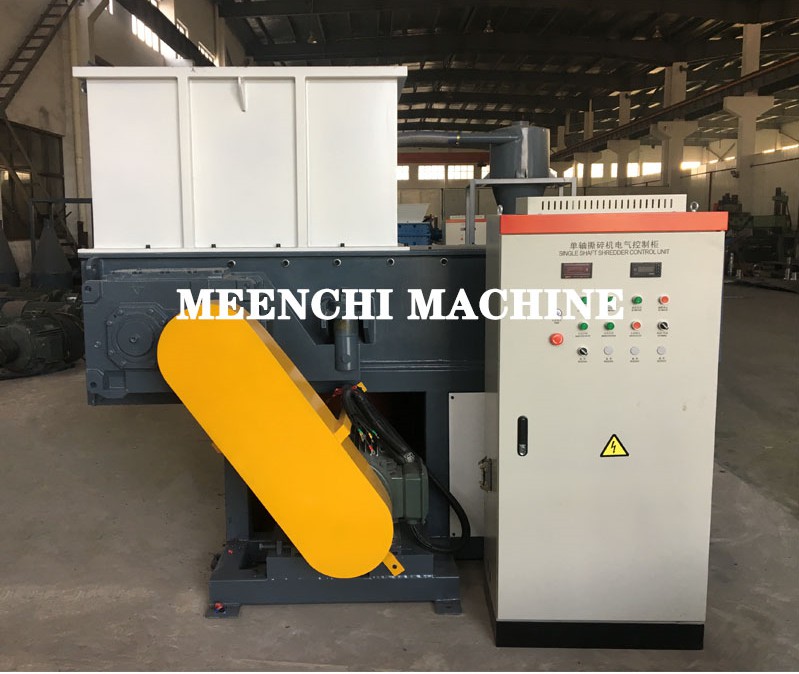 PRODUCT DESCRIPTION:
Film shredder is mainly used for crushing LDPE film, PP woven bag / space bag, PP safety net, PA fishnet, winding film and other soft plastics. Many pulverizers in the market are not able to effectively break soft plastic according to its characteristics. The film shredder adopts a unique cutter shaft structure and a four corner rotary cutter, which can be used to break soft plastic easily.
This series of film plastic grinding machine can be used for shredding materials of different shapes and sizes, and also can provide special knife rolls for different special needs.
PRODUCT ADVANTAGES:

1. Power distribution box of plastic shredder : after forging and high frequency quenching treatment, the transmission gear has a higher service life
2. Fixed knife of plastic shredding machine : fixed knife plays the role of material guidance and can prevent the material from being broken and then brought back. Clean the blade
3. Fixed tool holder of plastic waste grinder machine : it can fix fixed tool function, optimize tool replacement function, and make tool maintenance and replacement more efficient.
4. Sealing of plastic grinder : special sealing structure can completely protect the machine even when handling liquid materials
5. Bearing seat of film shredder machine: the bearing seat is split type, which can quickly remove the cutter shaft, blade, sealing system, bearing, and other components, and is easy to maintain and replace the cutter.
6. Moving cutter of plastic bag shredder grinder machine: after multiple heat treatment and overall tempering with D2, the hardness and toughness inside and outside the cutter material are the same, with high strength and service life. The cutter can be used repeatedly, and the cutter with blunt edge and diamond removed by proportion on the basis of original thickness can still be used.
WORKING PRINCIPLE:
The material enters the case from the feed hopper, the pusher pushes the material to the rotary knife roller under the push of the hydraulic cylinder, the rotary moving knife and the fixed knife break the material, the broken material falls through the screen, and then it is transported to the next process or collected and packed through the auxiliary conveying equipment.
The material enters into the recycling shredder box through the feeding system. The box is loaded with shredding blades. The pushing box pushes the material to the vicinity of the blades. The material is shredded into small pieces through the comprehensive functions of shredding blades, such as tearing, extruding and shearing, and then discharged from the screen holes.

PRODUCT PARAMETERS:
THE TECHINCAL OFPLASTIC CHIPPER SHREDDER
Model
600
800
1000
1300
1500
Motor Power(kw)
22
37-45
55
75
90
Rotary Blade(pc)
26-40
46-56
56-68
72-82
86-104
Capacity(kg/h)
250-300
400-600
600-1000
800-1300
1000-1500

PRODUCT DETAILS:

SINGLE SHAFT