Pet Bottle Washing Machine
Pet Bottle Washing Machine
Meenchi

China

About 40 working days after deposit

5 sets per month
The pet bottle washing recycling line is mainly to crush and clean the waste beverage bottle, mineral water bottle, oil bottle, etc. through the cleaning line equipment, and then recycle them.

The crushed and cleaned bottle pieces come out from waste plastic bottle recycling plant are sold to the local chemical fiber factory, which then hot melts the clean bottle pieces to make pet particles into filaments, and then makes them into chemical fiber products.

This is the towel, T-shirt, feather that we usually see in our life Most of fluffy clothes are made by recycling pet washing machine.
PET WASHING MACHINE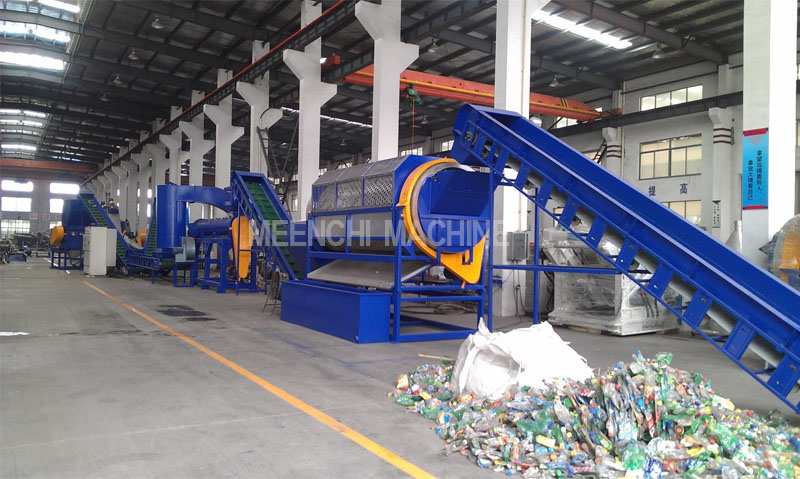 PRODUCT APPLICATION
1. Pet bottle crushing and washing line is mainly used for recycling the waste PET bottle, PET container etc.
2. Pet plastic recycling machine can separate PET bottles to flakes from label, cap, oil, garbage.
3. Pet recycling machine is composed of separator, crusher, cold & hot washing system, dewatering, drying, packing system, etc.
4. Pet recycling equipment is easy to operate, pet washing line is full automatic.
5. The capacity of pet recycling line: 300KG/H, 500KG/H, 1000KG/H, 1500KG/H, 2000KG/H.
PRODUCTION FEATURES:
• Labor saving. The bale opening and feeding system we provide will equally feed the material.
• You can use the manually sorting system to selecting out different color bottles and non-PET material.
• Metal detector is optional for you which used to take out any kind of metal from the PET bottles.
• Specially designed PET bottle granulator can easily get high output and with water doing wet griding can reduce wear of blades.
• High speed dewatering machine and drying system will insure the final PET flakes moisture <1%.
• The Fin dust separator machine will remove the final labels from the flakes to guarantee the PVC content.
Working Flow
Belt conveyor → Bottle label separator → Manual sorting belt → Belt conveyor → Crusher → Screw loader 1 → Hot washer → Screw loader 2 → High - speed friction washer → Screw loader 3 → Floating washer → Spray washer → Centrifugal dryer → Pipeline dryer → Flake Label separator → Packaging system → Electric cabinet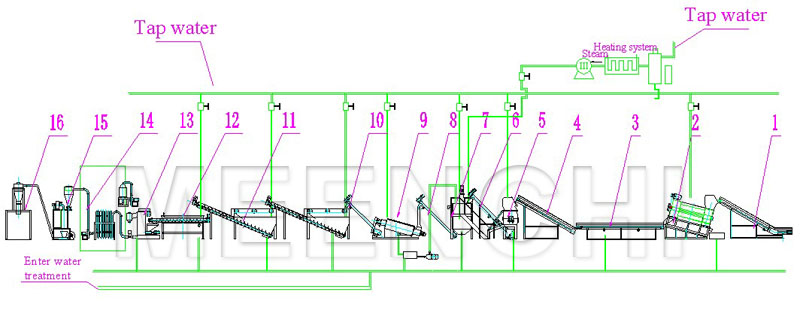 TECHNICAL PARAMETER

SPECIFICATIONS FOR PET BOTTLE RECYCLING EQUIPMENT

Input capacity

300kg/h

500kg/h

1000kg/h

2000kg/h

Workshop(M*M*M)

15(L)*8(W)*6(H)

42 (L)×10(W)×6(H)

55(L)×15(W)×6(H)

70(L)×18(W)×6(H)

Ancillary staff

4Persons

6Persons

8 Persons

12 Persons

Installation power

120KW

156KW

307KW

307KW

Water Consumption:

1Ton/h

2Ton/h

3.5Ton/h

3.5Ton/h
PRODUCT CONTRAST CHART