Epe Pearl Cotton Granulator Machine
Epe Pearl Cotton Granulator Machine
Meenchi

China

About 40 working days after deposit

5 sets per month
Foam granulator is a special machine for crushing, granulation of waste foam, pearl cotton and polyethylene foam. It consists of a foam crusher, a foam granulator and a granulator.

It is a device that recyclates waste foam granulation mechanism into particulates. The foam plastic granulator is used for processing EPS foam (foam gum) of disused fast food boxes, household appliances packaging and so on.

The recycled plastic can be used for making various stationery, toys, electrical appliances and so on.
EPE PEARL COTTON GRANULATOR MACHINE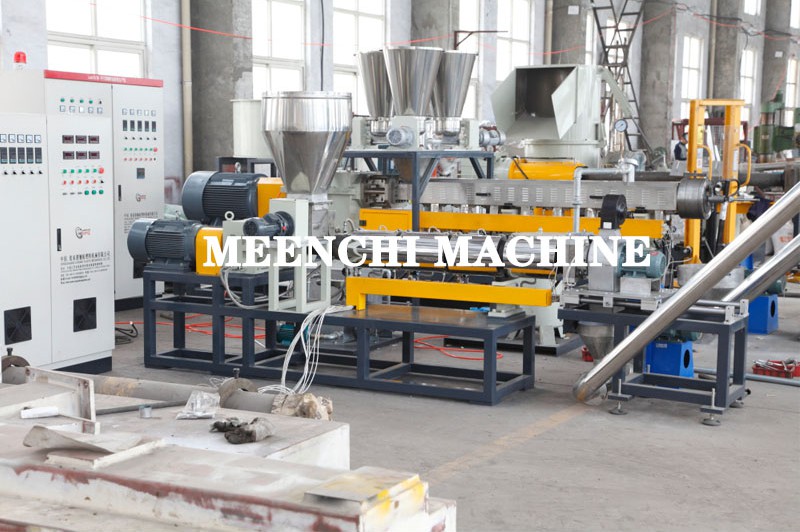 PRODUCT DESCRIPTION:
1. The recycling granulator is mainly in the production of PP,PE and other thermoplastic foam-based,a complete set of perfect supporting,including:crushers,foam granulator,pelletizer,pelletizer machine,hopper,cooling water tank,mootor pulley,motor frame,stove(heating coil),etc.
2. The machine can automatic continuous production.Duo to the machine manufacturing strength increase,so the equipment can 24 hours of continuous production,plus special exhaust drainage device,so the waste do not need to dry after washing,can be directly granulation(dry material also produces) and granulation clean,no pollution and aging phenomenon,greatly reduce the production cost,improve the production efficiency.
3. The machine has small volume,high efficiency,good performance,low power consumption,high product quality,wide adaptability of distinguishing feature,and will not
4. Affect production.Also can configure automatic changer head,non-stop electric (or manual)change .Also can according to need to configure the relevant auxiliary equipment:knife grinder,stuff-fetching machine,etc.

MAIN FEATURES:
1.The screw cylinder adopts high-strength carbon structural steel.
2.Fast feeding speed, greatly improve the output and quality.
3.Totally enclosed design
4.High efficiency, good performance, low power consumption, high quality of finished products
5.Automatic feeding, automatic temperature control, automatic dust removal, impurity removal, automatic filter change.

PRODUCT PARAMETERS:
Capacity (kg/h)


Power(kw)

Screw Diameter

(mm)

Preheating power (kw)

60-90

grade 4 11

3100-200

3

120-150

grade 4 15

4200-300

4

130-180

grade 4 18.5

300-400

4

200-300

grade 4 22

400-600

4

PRODUCT DETAILS: